Not sure if you remember back in 2017 (I do - ha!), but that's when Kit Kat first came out with pumpkin pie flavor and man was it yummy! Much to our sadness though, it was very limited and only found in certain regions/stores.
But THIS year for the Halloween season, the makers of Kit Kat have revealed that it will be available nationwide for everyone!
In case you're wondering, they will be limited-edition. They'll have that famous classic crispy wafer, covered in pumpkin pie-flavored creme. Oh how delicious that sounds!
Why am I sharing this news with you in July? Because (get ready) ... Kit Kat Pumpkin Pie treats will be hitting store shelves beginning in August. That's right around the corner!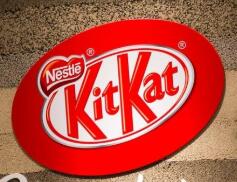 photo credit: Getty Images